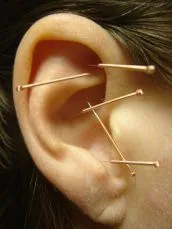 Acudetox is acupuncture used during detoxification from chemical dependency. In conjunction with alcohol and drug counseling, Acudetox has proven effective in helping to alleviate the tension and withdrawal symptoms associated with detoxing from chemical dependencies.
Acudetox also promotes relaxation, lessening the overall physical impacts of withdrawal.
In a very quick and simple office procedure, five acupuncture needles are inserted into specific locations of the outer area of each ear. After relaxing for about 45 minutes with the needles inserted, a calm sense of well-being should take the place of anxieties associate with withdrawal. The needles are removed and you are on your way.
If necessary, small studs can also be inserted after the needles are removed to help assure a balanced energy until your next appointment.
SPECIAL NOTE
: Individual experiences with Acudetox can and do vary, and is only available in conjunction with counseling.
Frank Giardina holds a license by the Texas State Board of Medical Examiners to administer Acudetox therapy .